Posted On 2-6-2023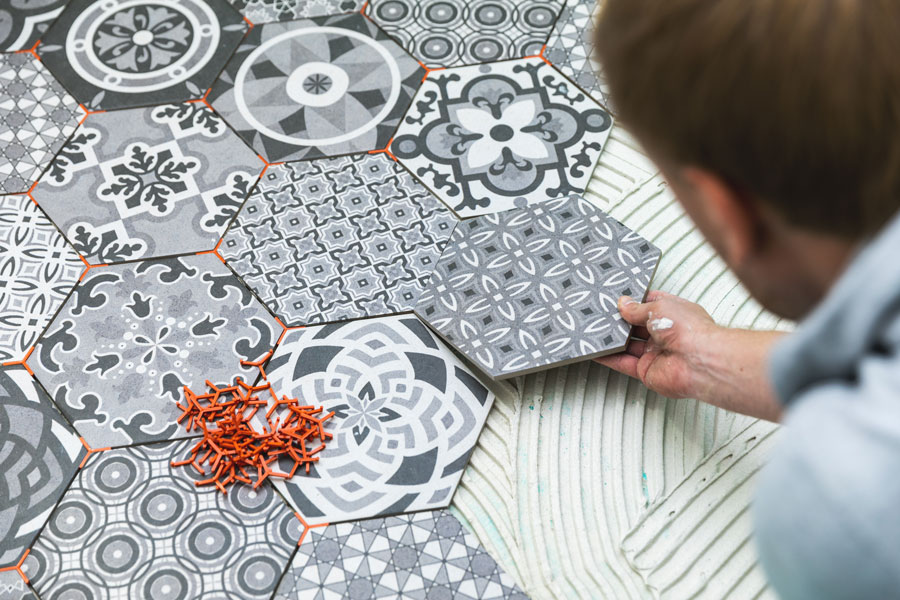 Bathroom floor tiles come in various materials, including vinyl, ceramic, wood, stone, and glass. This guide will help you determine the most suitable material for your bathroom, the benefits, and drawbacks of each option, providing the necessary information for a well-informed decision.
Stone tiles, crafted from limestone, marble, granite, and slate, offer a range of colors, including cream, blue, red, gold, and green. The available textures are numerous and encompass cleft, tumbled, sandblasted, etched, and flamed variations. It is important to note that stone tiles require a higher level of maintenance than ceramic tiles. The tiles require regular cleaning and sealing to preserve their appearance.
Ceramic tiles have the advantage of being relatively low maintenance; however, they may not be as comfortable underfoot as vinyl flooring or as straightforward to install. They have an attractive appearance, with a wide range of finishes, textures, and patterns. If protected with a high-quality glaze, ceramic tiles are highly resistant to wear and scratches.
Porcelain tiles are manufactured using clay and minerals, resulting in a dense and moisture-resistant product. Many porcelain tiles feature a through-body color, which provides additional durability in the event of chipping. Due to their moisture resistance, porcelain tiles are well-suited for use in bathrooms and outdoor installations.
In addition, porcelain tiles are also highly resistant to staining and fading, ensuring their appearance remains consistent over time. The hard-wearing nature of porcelain tiles makes them suitable for high-traffic areas and areas with heavy foot traffic.
When properly installed, glass floor tiles have a high level of durability. Textured glass tile or smaller glass tiles with numerous grout joints may be used to enhance slip resistance. The appeal of glass tile lies in its ability to create the illusion of depth and when colored, a stunning stained-glass effect.
Additionally, glass tile is low maintenance and easy to clean, making it a popular choice for flooring in both residential and commercial spaces.
Mosaic tiles are available in various designs, including square, round, and herringbone. Regardless of the chosen design, mosaic tiles can add intricate details to the floor, complementing other design elements in the room or serving as a standout feature.
Mosaic tiles are also highly customizable, allowing a unique and personalized touch to the flooring design. The small size of mosaic tiles also makes them ideal for use in areas with curves or irregular shapes, adding versatility to the design options.
As you can see, there are many tile options that you can choose from when remodeling your bathroom. All with their own sets of pros and cons. But whatever tile you decide on, know that you have a maintenance and repair team at the ready in The Grout Medic. We would love to help you clean, seal, and repair your grout and tile whenever they are in need.