Posted On 3-1-2021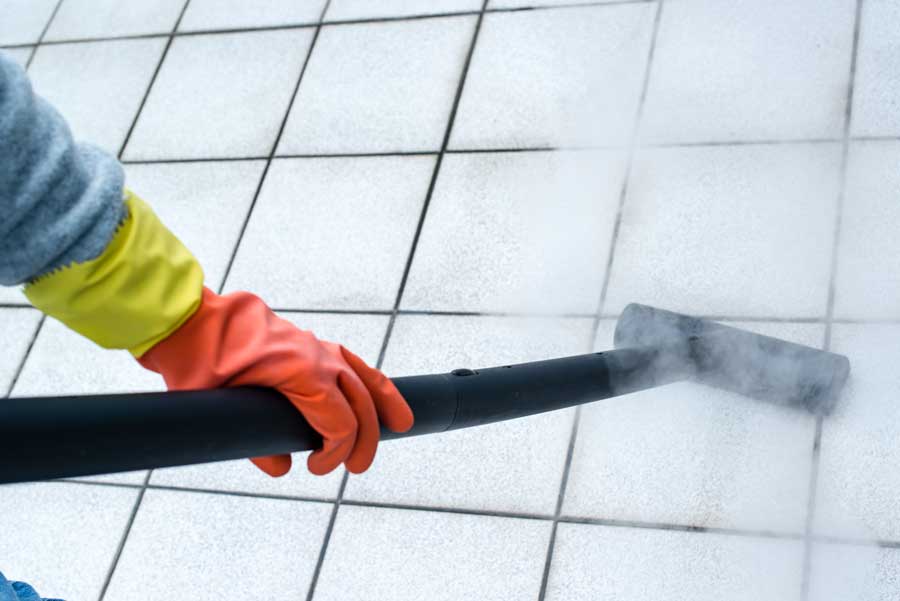 At The Grout Medic, we only use the power of steam to clean and refresh your tiled surfaces. But you may be wondering how steam alone is powerful enough to tackle dirt and grime or what the advantages to using steam are, and that is exactly what we are going to discuss here today.
One of the biggest draws to steam cleaning is the fact that it is a powerful chemical-free tool. In fact, it has the power to dissolve leftover chemical residue from the last time you cleaned. This is great news especially for surfaces like your kitchen counter. Afterall, you do not want to run the risk of mixing chemicals into your food when you are preparing dishes. This is also of particular benefit to those with small children. Since many tots crawl around on the floor with their hands, steam cleaning eliminates the risk of them possibly ingesting harmful cleaning chemicals. And a final benefit to chemical free cleaning is the fact that it is environmentally friendly since you are not washing harmful chemicals down into the water system.
Piggybacking off the last point, steam cleaning is great because it reduces or even eliminates the need for you to buy harsh chemical cleaners. Without the need to keep these items restocked, you will end up saving money in the long run. And who does not love that?
Say goodbye to buckets and rags and elbow grease! Using a steam cleaner makes cleaning easier. It is powerful enough to lift and dislodge dirt just by contacting it. It sanitizes and deodorizes in one go, reducing the need for multiple steps. And it does not leave any gross residue that will leave your surfaces looking dull. Steam cleaning is compatible with a wide range of surfaces too, from floors to upholstery. Meaning you can finally tackle those surfaces you have been dreading cleaning for some time now.
Truly the list in favor of using steam cleaning could go on and on. These are just a few of our favorite ones. And while household steam cleaners are great and easy to use, there are still times when they may not cut it. At The Grout Medic, we have professional, heavy duty steam cleaning tools that we use to clean your tile and grout. If you need professional results, give us a call today!